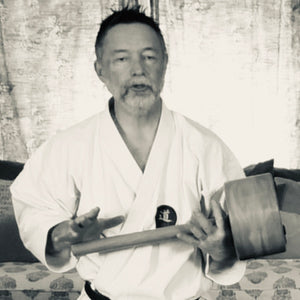 Chishi Exercises to Assist Sanchin Kata
Regular price $39.95 Sale
Chishi (Stone Mallet) Exercises to Assist Sanchin Kata
You can follow along with this workshop that details key Chishi (stone mallet) exercises with a view to improving and supporting the foundational kata Sanchin.
Using the chishi consistently and correctly as shown in this video will dramatically increase the effectiveness of your martial art's strikes, blocks, trapping, and more.
Chishi specifically strengthens the joints, and connective tissue - including tendons, ligaments, fascia. Take your martial art to the next level.
This content packed video is filmed in HD, and is 50 minutes in duration. Includes: safety, warm-up, key chishi exercises, relevance to Sanchin kata explained in detail, and more.
(GKC and GKCglobal members please use your member pricing code).

Check out our Build Your Own Chishi video here - https://youtu.be/SAQvz3Z23zg