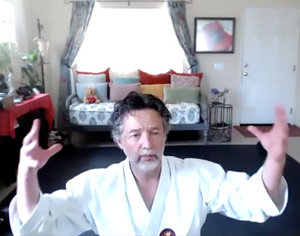 Converging Kata & Kumite
Regular price $19.95 Sale
This video demonstrates follow along footwork drills, and correlates this to kata movement. Additionally it explains how to view the timing/angles of the kata for kumite, and how Okinawan kata have "stops" that are actually points of reference for the techniques, and not meant to be performed that way in application. 

Please note this video was recorded through Zoom and is not in HD.
Video is a content packed 16 minutes in duration. Available for download only.
Note: this is a free download for GKCglobal members (if you are interested in GKCglobal membership please check out the 'Services' page to see options: https://gkcglobalshop.com/collections/services - GKCglobal members receive access to members only content, additional discounts on videos, curriculum support, eligibility to attend live online classes, and more).