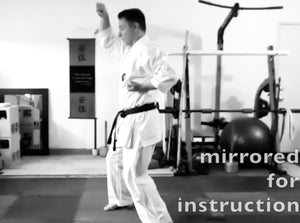 Gekisai Dai Ichi Kata Key Points
Regular price $19.95 Sale
A companion to our Gekisai Dai Ichi series. In this video Sensei(s) Paul and Michelle teach key areas/key concepts of the kata that are often missed. This is fully edited footage from a virtual karate class presented to students around the world. 
Please note that while the lessons can be seen clearly resolution of the video is not HD due to being recorded through Zoom (we have reduced the pricing accordingly)
Video is a content packed 21 minutes in duration. Available for download only.
Note: this is a free download for GKCglobal members (if you are interested in GKCglobal membership please check out the 'Services' page to see options. GKCglobal members receive access to members only content, additional discounts on videos, curriculum support, eligibility to attend live online classes, and more).