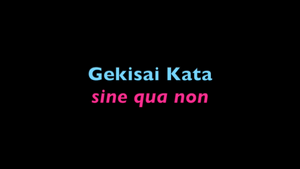 Gekisai Kata Sine Qua Non (for experienced practitioners and teachers)
Regular price $19.95 Sale
This instructional video is recommended for experienced practitioners and teachers. Although the topic is mostly Gekisai Dai Ichi kata, the practice principles can be applied to all your kata. 
In this video Sensei(s) Paul and Michelle teach the importance of whole body connection when executing kata, and the relationship to junbi-undo, sanchin kata, and application. This is fully edited footage from a virtual karate class presented to students around the world. 
Please note that while the lessons can be seen clearly resolution of the video is not HD due to being recorded through Zoom (we have reduced the pricing accordingly)
Video is a content packed 21 minutes in duration. Available for download only.
If you are interested in GKCglobal membership and its benefits please go to the members information page.