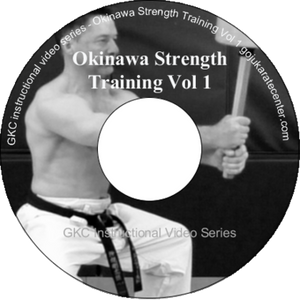 Okinawa Strength Training
Regular price $59.95 Sale
Develop the incredible strength that Okinawan Karate practitioners are renowned for through these old style strengthening exercises. The traditional strength tools and their associated exercises develop functional strength for martial arts and other physical activities, in addition to forging strong and resilient connective tissue that is key to power development and injury prevention.
In this instructional video Paul Enfield Kyoshi, hachi dan (8th dan), teaches the Okinawa karate weight training system. This video focuses on correct and functional use of the old style weight training implements - it is critical to understand the details of each exercise to gain maximum benefit for the user. With over four decades of experience, living and training in Okinawa and Japan, Paul Enfield is an acknowledged expert in the field. 

The video features ishi-sash (stone padlock)i, chi'shi (stone mallet), sashi-ishi (lifting stone(, nigiri-game (gripping jars), and a bonus section on resistance bands.
This video is 59 minutes in duration.