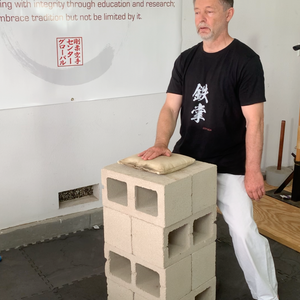 Iron Palm Workshop - Recommended
Regular price $49.95 Sale
I hour of content packed material
Introduction to:
Iron Palm Online Workshop
Easy to learn and implement, with great results in as little as 10 mins per day!

Learn practical and tested methods that forge the hands to become more resilient, less vulnerable to injury, increase confidence to hit harder, while developing almost every part of the hand as a weapon. Over time your arms will develop a shocking heaviness for blocking, intercepting and swinging strikes.

Don't forget your Premium Iron Palm T-Shirt also!

Upon completion of this workshop you will have learned a methodical and effective training protocol to start you on your journey of Iron Palm training, or to expand on training you already engage in.
Materials - a small canvas pouch approx. 10 x 10 inch (25cm x 25 cm) filled with dried beans, rice or iron ball bearings (bbs work well – don't use lead). A medium to large hard husk coconut (a smooth river rock can be used as a substitute). 
Be sure to include your email address when ordering for updates and latest offerings. 

The Workshop includes three specific areas of study:
Hand and Forearm preparation –
 Iron Palm (soft) Pouch –
Striking areas on Hands
Suggested routine
Hitting methods
Safety precautions
Correct use of Herbal Liniment (dit da jow - purchase here)
Iron Palm (hard) Object (We will be using a Coconut; a smooth river rock will work also) –
Striking areas on Hands
Suggested routine
Hitting methods
Safety precautions
Herbal Liniment
How to Break a Coconut
 Benefits Iron Palm/Heavy Hand Training -
Resilient hands
Develop multiple striking surfaces
Less prone to injury
Hit harder
Shocking heaviness
Healthy hands